みんなの活動
2022年9月12日
【2022年10月9日開催】CLD festival 2022 ~世界のみんなと日本語でつながろう!~
*English follows Japanese*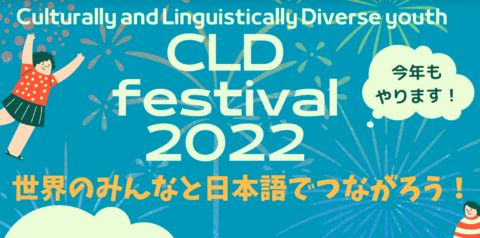 2022CLD (Culturally and Linguistically Diverse Children)Festival 実行委員会より、オンラインイベント「CLD festival 2022」のご案内です。
★★★★★★★★★★★
世界各国の言語・文化多様な方々とオンライン上で交流ができるイベントです。
好きなことを発表したり、みんなで話したり、自由に交流ができる楽しい企画を用意しています!発表をしない方の参加も大歓迎です。
イベントポスターはこちらです:
開催日:2022年10月9日(日)
時 間:20:00-22:00 (日本時間) 13:00-15:00(中央ヨーロッパ夏時間)
↓↓ 各国のタイムテーブルはこちらからご確認ください ↓↓
場所:オンライン(Zoom)
対象者:基本的に11歳以上としておりますが、関心のある方はどなたでもご参加いただけます。交流が目的となっていますので、日本語やその他の言語でやりとりができる年齢であることが望ましいと思います。子どもだけでの交流が難しい場合は、親子でのご参加も歓迎いたします。
参加費:無料
参加申し込み:下記リンクより事前のお申し込みが必要です。
https://forms.gle/ZUqdWzxmEBXUFsiM7
申し込み締切日:10月8日(土)
その他の詳細に関しては、ポスターおよび申し込みフォームをご参照ください。
みなさまのお申し込みを心よりお待ちしております。
★Instagram:https://instagram.com/cld_festival?r=nametag
★お問合せ:cldfestival@gmail.com
************************************
主催: 2022CLD Festival 実行委員会 松崎かおり(大阪大学)・三輪聖(テュービンゲン大学)・荻田朋子(関西学院大学)
協力:AJE-SIG欧州継承日本語ネットワーク、CLD-online
(English )
Dear all,
The "CLD Online Festival" sponsored by the 2022 CLD Festival Executive Committee will be held on Sunday, October 9, 2022. This is an event where you can communicate with people from various countries and regions around the world.
We have prepared a fun program where you can present what you like, talk with others, and interact freely! You are also welcome to participate without presenting.
★The event poster can be downloaded here:
https://drive.google.com/file/d/1n_4LgIZ8eiRbryS09pgR4vZjQiEk5V07
★Date: Sunday, October 9, 2022
Time: UTC+8 (Japan) 20:00-22:00
For the timetable of each country, please click here.
★Participation is free, but you need to apply in advance from the link below.
Registration Deadline: Saturday, October 8, 2022
https://forms.gle/ZUqdWzxmEBXUFsiM7
★We will use zoom on the day. The URL will be sent to the email address you provided in the form.
★Instagram: https://instagram.com/cld_festival?r=nametag
★Contact: cldfestival@gmail.com
We welcome the participation of your family and friends.
We are looking forward to your application.